Starburst Quilt in Dragonfruit
Welcome to Quilt For Lovers, learn HOW TO USE PATCHWORK IN THE DECORATION, clear all your doubts and enjoy this wonderful world! THE ORIGIN OF PATCHWORK – Patchwork is a very old manual work. The first evidence of this type of work dates back to 3400 BC. In ancient Egypt, the pharaohs already used clothes made from leftover fabrics, to be used under iron armor and quilts. In the Middle Ages, patchwork spread across Europe – England, Italy, France and Germany. They were used in banners, flags, rags and war vests. In the 18th or 19th century, it was taken to North America and different styles were created in each region. Thus began an exchange of standards and this art became a community making with social gatherings, where women gathered to work together, thus sharing problems, creations and participating in the formation of many generations.
Sometimes they told, through applications and drawings, stories about their childhood; they portrayed a charm or a good memory. And, together with the quilt – the act of passing the seam between two fabrics to form a volume – Patchwork proved to be even more special. Today, patchwork is an art applied in fashion, at home, and wherever else your imagination can reach. Currently in the United States there are museums and art galleries specializing in patchwork. Patchwork is an English word that can be translated as work made from pieces or scraps of fabric. Patch means pieces and work, work. I work with patchwork. It is a craft work, sewn by hand or machine, joining the scraps and cuts of fabrics forming designs. It's the art of joining patches together.
It is an art that is in constant evolution, always new projects, one more beautiful than the other! Who doesn't have a crush on environments with the look of grandma's house, a cozy environment that always brings us that feeling of love and affection?! Decorations like this always remind me of coziness and warm bread being baked in the oven. That's how I start talking about this ancient, beautiful and whimsical technique that is patchwork. If you don't recognize the term, it's a technique that unites flap and flap to form quilts, pillow covers, rugs and curtains! In literal translation, patchwork is "fabric work" and is a very old craft technique that you've certainly seen around! How to use patchwork in decoration? In decoration, patchwork has been used to bring color and joy to discreet and sober environments. Patchwork has evolved so much, in fact, that today there are furniture made using this technique!
In addition to being beautiful, it is a sustainable technique, since patchwork is made with leftovers and scraps of fabric. In fact, any fabric can become a beautiful and colorful quilt or rug! And when I say "any fabric" I mean clothes, pillow covers, sheets and curtains that are no longer used at home! And for those who love to be daring in decoration, you can even use the patchwork technique on the wall, did you know? Gluing piece by piece of fabric you create a beautiful wall, colorful and full of history! And it's not hard to copy at home: you just need fabric scraps and white glue! You can also make beautiful patchwork, which is a great way to bring life and color to the bedroom, living room, your house in general and the best thing is without spending too much! If you are skilled with thread and needle, you can make your own patchwork piece. Is the patchwork in the decoration cool or not? I especially love quilts and pillow covers with this technique! I think it's a simple and nice way to bring an environment to life! And you, what do you think of using patchwork in the decoration?
Below you will find the link to this beautiful pattern in PDF, this beautiful quilt, a mixture of bright colors that I really liked and brought as a handpicked pattern by Starburst Quilt in Dragonfruit, for you to use in your day-to-day and also in yours. . step pattern. iron free in all sizes to make a beautiful brightly colored quilt.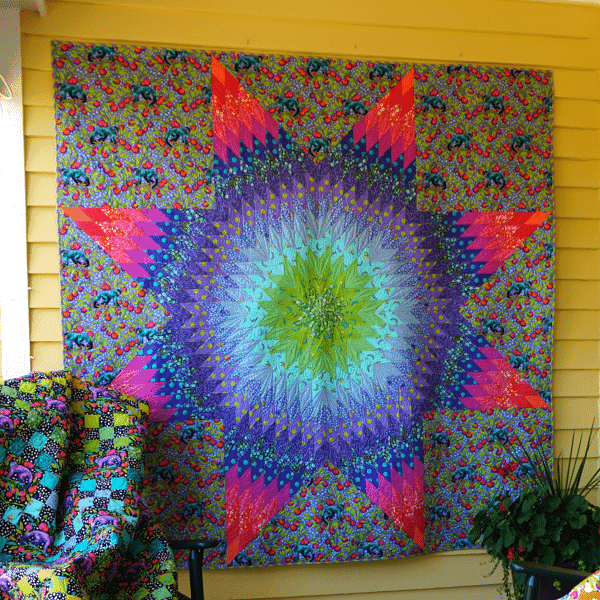 Quilt For Lovers would like to thank by Tula Pink, for providing us with the complete impression of this beautiful work, go through it step by step and start your project, plus some excellent works. Thank you for visiting our website. We always try to bring you the best. Did you like the article? There is always a new technique to perform different and successful jobs! The quilt is a sewing technique and also one of the branches of handicraft.
Don't forget to follow facebook, enjoy our @quilttutorial page, we are always sharing the amazing patterns of all levels, starting with advanced, don't miss it. Good work.