Welcome to Quilt For Lovers, if you like to explore or improve your skills this is the perfect site for you! Stay tuned, as there are always new and the patterns are incredible, one more than the other, it is impossible not to fall in love!! The bow tie quilt block makes a perfect quilt for a baby, it is sweet, simple and goes with almost any fabric. But it also makes a collection of adorable scraps, you can make the size, color and pattern you want!!
It's an easy tutorial for an 8 "bow tie pad.
The bow ties are cut from 4 fat quarters – so run to your stash and find 4 coordinating ones!
Bow Tie Baby Quilt Pattern
You will need:
1/4 yard each (or 4 fat quarters) of 4 different print fabrics 1 1/4 yards of solid cream colored fabric
1/2 yard small print fabric for binding
48'' square of quilt batting
1 1/4 to 2 1/2 yards of backing fabric, depending on width
Cutting:
From 3 of the print fabrics, cut:
6 squares 4 1/2'' x 4 1/2'' (18 total)
6 squares 2 1/2'' x 2 1/2'' (18 total)
From the remaining print fabric, cut:
8 squares 4 1/2'' x 4 1/2''
8 squares 2 1/2'' x 2 1/2''
From the solid fabric, cut:
26 squares 4 1/2'' x 4 1/2'' • 12 squares 8 1/2'' x 8 1/2''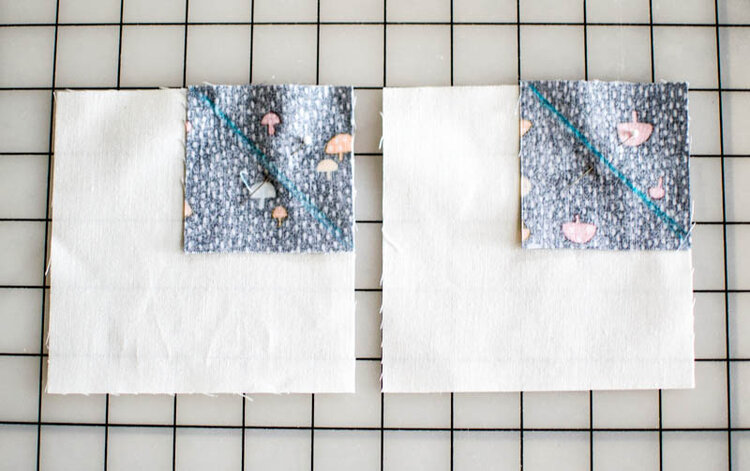 Sewing the Bow Tie blocks:
All seam allowances are 1/4''.
1. Using the fabric marking pen, draw a diagonal line across the wrong side of each 2 1/2'' square (26 total).
2. Pin a 2 1/2'' square in the corner of each 4 1/2'' solid square (26 total).
3. Stitch along the drawn line on each smaller square.
4. Trim away the corner 1/4'' past the line of stitching.
5. Press the corner open.
Repeat steps 3-4 for all of the 2 1/2'' print squares and 4 1/2'' solid squares.
6. To make a bow tie block, arrange two 4 1/2'' print squares with two matching solid squares with print corners as pictured.
7. Sew the squares into rows and then sew the rows together, pressing after sewing each seam.
Repeat to make 13 bow tie blocks.
Trim each block to 8 1/2'' square, if necessary.
Sew the blocks together:
1. Arrange the bow tie blocks and solid 8 1/2'' squares into 5 rows:
3 rows with 3 bow tie blocks and 2 solid squares
2 rows with 2 bow tie blocks and 3 solid squares
Pay close attention to the direction of the bow tie blocks within each row (the bow ties in rows 2 and
4 slant in the opposite direction as the bow ties in rows 1, 3, and 5).
The arrangement of the different prints can be random or logical.
2. Sew the 5 rows.
3. Sew the rows together.
Finishing:
1. Sandwich the quilt top, batting, and backing. Quilt as desired.
2. From the binding fabric cut 4-5 strips 2 1/2'' tall (if your fabric is wide enough, only 4 strips will be needed).
3. Sew the binding strips together and bind the quilt using your favorite method.
See too: Morning Star Block