Welcome to Quilt For Lovers! This pattern at first glance may seem difficult, but if you systematically cut and sew your patches, you will find that the quilt matches easily! This quilt is called "Card Trick".
Choose Quilted Fabrics: The Card Trick block has four areas that appear to overlap – the cards. Most card trick quilt blocks are sewn using a different fabric for each card. Choose fabrics with high contrast (the use of high contrast in fabrics arranged side by side can result in blocks that resemble a swastika) or use a selection with more subtle differences between the cards, feel free!
Quilt Block and Quilt Sizes
Final size of the card trick block: 9 square inches
Final quilt size: 63-1 / 2 x 84-1 / 2 inches
Use quick patches for some of the flaps
It is good when we can use quick patches to assemble square quarter triangle units – like the patchwork units on all but the corner positions of the Card Trick block.
But since the results of quick patches on mirror image units and all the individual units on that quilt must be identical to create the proper flow, many of them assemble one triangle at a time.
See the fabric positions illustrated below:
Fabric A: 7/8 yards
Fabric B: 7/8 yards
Fabric C: 1 meter (also used in corner stones)
Fabric D: 7/8 yards
Clear bottom: 1-3 / 8 yards
Sashing: 1-5 / 8 yards
Edge: 2-1 / 4 yards for longitudinal grain strips or 1-1 / 4 yards for cross grain strips
Binding: about 315 cm long, double fold
Support: 5-1 / 2 yards
Hitting: about 75 x 95 inches
Cut Fabric for the Card Trick Quilt
Start by cutting only enough fabric to make a few test blocks – Read through the pattern before you begin and change the cutting instructions if you plan to use different assembly techniques for quick-pieced units. Label fabrics as you work.
Fabrics A, B, C and D, Cut From Each:
(3) 3-7/8-inch wide strips of fabric cut from selvage to selvage and (1) 3-7/8 x 26-inch strip
Cut strips into (36) 3-7/8 x 3-7/8-inch squares
(1) 4-1/4-inch wide strip cut from selvage to selvage—cut into (9) 4-1/4 x 4-1/4-inch squares and then cut each square in half twice diagonally
Additionally From Fabric C:
(2) 1-1/2-inch wide strips cut from selvage to selvage—cut into (48) 1-1/2 x 1-1/2-inch squares (for sashing cornerstones)
Light Background:
(8) 3-7/8-inch wide strips cut from selvage to selvage—cut into (72) 3-7/8 x 3-7/8-inch squares
(4) 4-1/4-inch wide strips cut from selvage to selvage—cut into (35) 4-1/4 x 4-1/4-inch squares; cut each square in half twice diagonally
Sashing Strips:
(3) 9-1/2-inch wide strips cut from selvage to selvage—cut into (82) 1-1/2 x 9-1/2-inch bars
Borders:
Cut borders after the quilt top is assembled.
2. Make Card Trick Quilt Blocks
Refer to the triangle orientation if needed:
Gather two triangles cut by dividing 4-1/4-inch squares of each of the following fabrics: A, B, C, D. Gather four background triangles of the same size;
Sew a colored triangle to a background triangle along short edges. Handle triangles carefully to avoid stretch;
Press seam allowances toward darker fabrics;
Gather one 3-7/8-inch square of the A, B, C, and D fabrics. Cut each square in half once diagonally and set aside four of the triangles for the next block;
Sew a step 4 triangle to each two-triangle unit along its longest edges and configured as shown:​

Background/A to D
Background/C to B
Background/D to C
Background/B to A

Trim the triangular "dog ears" at seam ends;
Sew remaining small triangles together in pairs, and block center above (A to D, B to C, and orienting them exactly as illustrated). Press seam allowances in opposite directions;
Sew the new units together on their longest edges. Press. Trim dog ears.
Make Half Square Triangle Units:
Gather four 3-7/8 x 3-7/8-inch background squares and one square of the same size of fabrics A, B, C, and D.
Use an easy quick piecing method to sew each colored square to a background square, creating eight half square triangle units that measure 3-1/2 x 3-1/2 inches. Four will be used in a second block;
Half square triangle units are used in the four corners of each quilt block.
Assemble the Card Trick Quilt Block:
Arrange block components into three rows, making sure like-fabrics touch each other.
;
Sew components of each row together;
Press adjoining seams in opposite directions and sew rows together. Press;
Repeat to make a second block using leftover components from block 1;
Make a total of 35 blocks; you'll have four leftover half square triangle units and a few leftover triangles.
Assemble the Card Trick Quilt:
Using a design wall or other flat surface, arrange the Card Trick quilt blocks into seven rows, each row with five blocks. Blocks can be oriented identically in each position or flipped around to give the quilt a scrappier appearance;
When you're happy with the arrangement, sew a pre-cut sashing strip vertically between blocks in each row, and then sew a strip to each end of the row (total of six per row). Press seam allowances towards the sashing strips;
Sew five sashing strips and six pre-cut cornerstones into a horizontal row, beginning and ending with a cornerstone. Press seam allowances toward the sashing strips;
Repeat to create eight identical horizontal sashing rows;
Place a horizontal row above the first row of blocks and below the last row of blocks. Use the remaining six sashing rows between rows of quilt blocks;
Sew sashing rows and block rows together, matching all seam intersections carefully. Pin to keep fabrics from shifting. Press seam allowances towards the horizontal sashing rows;
Use straight border instructions to measure the quilt and sew 5-inch wide borders to its edges. Sew side borders first. Beginners, do not measure your quilt along its outer edges because it is more than likely skewed a bit;
Mark for quilting if necessary. Sandwich the quilt with batting and backing and baste. Quilt by hand or machine. Trim and square up the excess edges before sewing binding strips around the quilt.
3. Card Trick Block and Block Schematic
This side-by-side Card Trick block and block schematic might help you visualize fabric placement.
4. FINISHED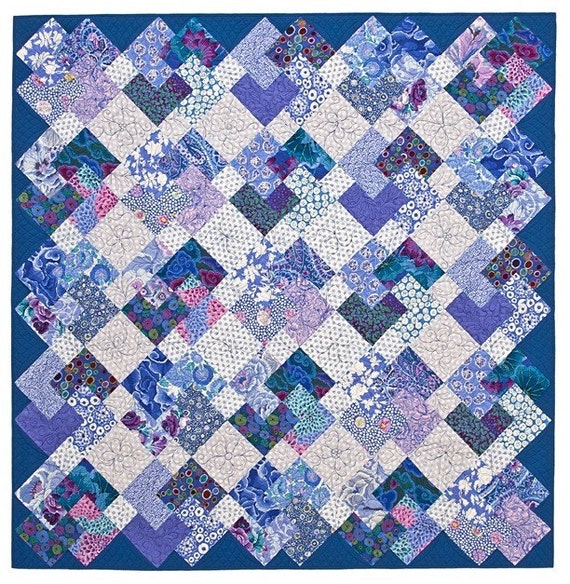 See too: Morning Star Block