Snail's Trail Quilt Block
Ready for today's pattern? It is the famous Snail's Trail Quilt Block, it is a very popular pattern of bedspreads, it has a modern feel and tons of movement. It is a fun and somewhat challenging project. Each block has a spiral pattern that can be a little tricky to build, but don't worry, after getting the hang of it, each subsequent block gets easier.
This version is sewn in a neutral theme, but the bedspread can be constructed with any fabric you choose. Do not hesitate to add extra colors or make a patchwork with the pattern.
Quilt and block size: snail trail quilt pattern is 70 inches by 77 inches.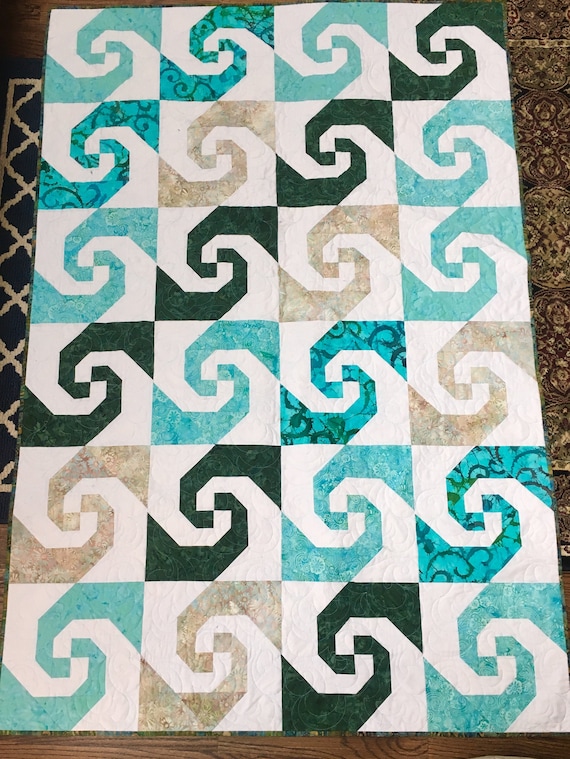 One component is measured at 1/16 inch – not a size that can be rotated with absolute precision. Patches are not difficult to estimate, and the estimates will work perfectly. But you can also download an optional ribbon cutting guide on a rotating ruler.
Snail's patchwork blocks can also be founded. This may be a good option for miniature quilt blocks, but it's probably not worth the trouble for the 9-inch version of this quilt pattern.
Materials Needed
Light Neutral and Darker Neutral for Quilt Blocks: 2 yards of each fabric
Straight-Set Borders
Dark Inner Border: 5/8 yard
Outer Border: 1 1/4 yard
The outer border illustrated is the same fabric used in quilt blocks. Change this if you wish.
Other Materials
Backing: 4 1/2 yards
Batting: About 80 inches by 87 inches
Binding: About 315 running inches of double fold binding
As with any quilt, start by making a sample block before you cut all the patches needed for the quilt.
Cut from each of your two contrasting fabrics:
Three 1 5/8-inch wide strips, cut from selvage to selvage
One 1 5/8- by 16-inch strip
Three 2 1/2-inch wide strips cut from selvage to selvage; cut (42) 2 1/2-inch squares from these strips
Three 3 1/8-inch wide strips cut from selvage to selvage; cut (42) 3 1/8-inch squares from these strips
Four 4 1/16-inch wide strips cut from selvage to selvage; cut (42) 4 1/16-inch squares from these strips (estimate the size or use an optional cutting guide)
Six 5 3/8-inch wide strips cut from selvage to selvage; cut (42) 5 3/8-inch squares from these strips (you might need an additional cut if the fabric is narrower than normal)
You may need to cut a few squares from remaining fabric to reach a total of 42 for each size and color.
Cut each square in half once diagonally.
Make Four-Patch Block Centers
Refer to the diagram as you assemble the quilt block.
Sew a 1 5/8- by 42-inch light strip lengthwise to a dark strip of the same size. Press the seam allowance towards the dark strip.
Square up one end of the strip set and cut (25) 1 5/8-inch segments.
Combine remaining like-sized 1 5/8-inch wide strips to make a total of 84 segments.
Make a four-patch unit by sewing two segments together, placing like colors diagonally from each other. Press. If the patches are bulky, try fanning out the seam allowances when you press.
Make 42 four-patch units total.
Finish Assembling the Snail's Trail Quilt Block
The triangles increase in size around the center. Speed up assembly by chain piecing one triangle position at a time once you've become accustomed to the sewing order.
Fold triangles in half to find the midpoint along their longest edge. Match the midpoint to the midpoint of the patchwork it is matched to.
Sew a light triangle cut from 2 1/2-inch squares to opposite sides of the four-patch center, orienting it as shown. Press seam allowances towards triangles.
Add dark triangles of the same size to the remaining four-patch edges. Press.
Continue adding triangles in pairs around the block, working from smaller to larger triangles and referring to the diagram for placement.
Your block should measure 9 1/2 by 9 1/2 inches. If it doesn't, press and remeasure. If it still isn't quite right, inspect the block, looking for inconsistencies in sewing. Adjust for the next block.
Make a total of 42 snail's trail quilt blocks.

Assemble the snail's trail quilt by placing the blocks in seven horizontal rows. Each row contains six quilt blocks as shown. Use the diagram to help you align the blocks to create a larger "O" of like colors where the quilt blocks join.
Sew blocks in each row together. Press the seams between blocks in opposite directions from row to row and join the rows, matching all seams carefully. Press the quilt.
Add straight borders to the quilt. Make the inner border from 3 1/2-inch wide strips cut from dark border fabric. Make the outer border from 5 1/2-inch wide strips. Use the straight border instructions to construct the borders and sew them to the quilt. Don't be tempted to make borders that match the measurements along the sides of your quilt—the edges are likely skewed a bit.
Press the quilt and mark for quilting if necessary. Sandwich the quilt with batting and backing. Quilt by hand or machine. Trim excess batting and backing and square edges slightly if necessary. Sew binding strips around the quilt edges.