Easy Rail Fence Baby Quilt
Welcome to Rail Fence's Quilt For Lovers baby quilt pattern is an easy-to-pad design, suitable for beginners on experienced quilts. Easy Rail Fence Baby is larger than a crib bedspread, but works great for children and bedspreads.
Each of the five strips used in the rail fence duvet blocks ends at 1-1 / 2 "x 7-1 / 2". Avoid fabrics with wide and spaced multicolored motifs, as they usually look very different from one area to another when they are cut into narrow strips. Choose stained fabrics, small prints, batiks, tone on tones and other similar fabrics, better feel free! Explore your imagination!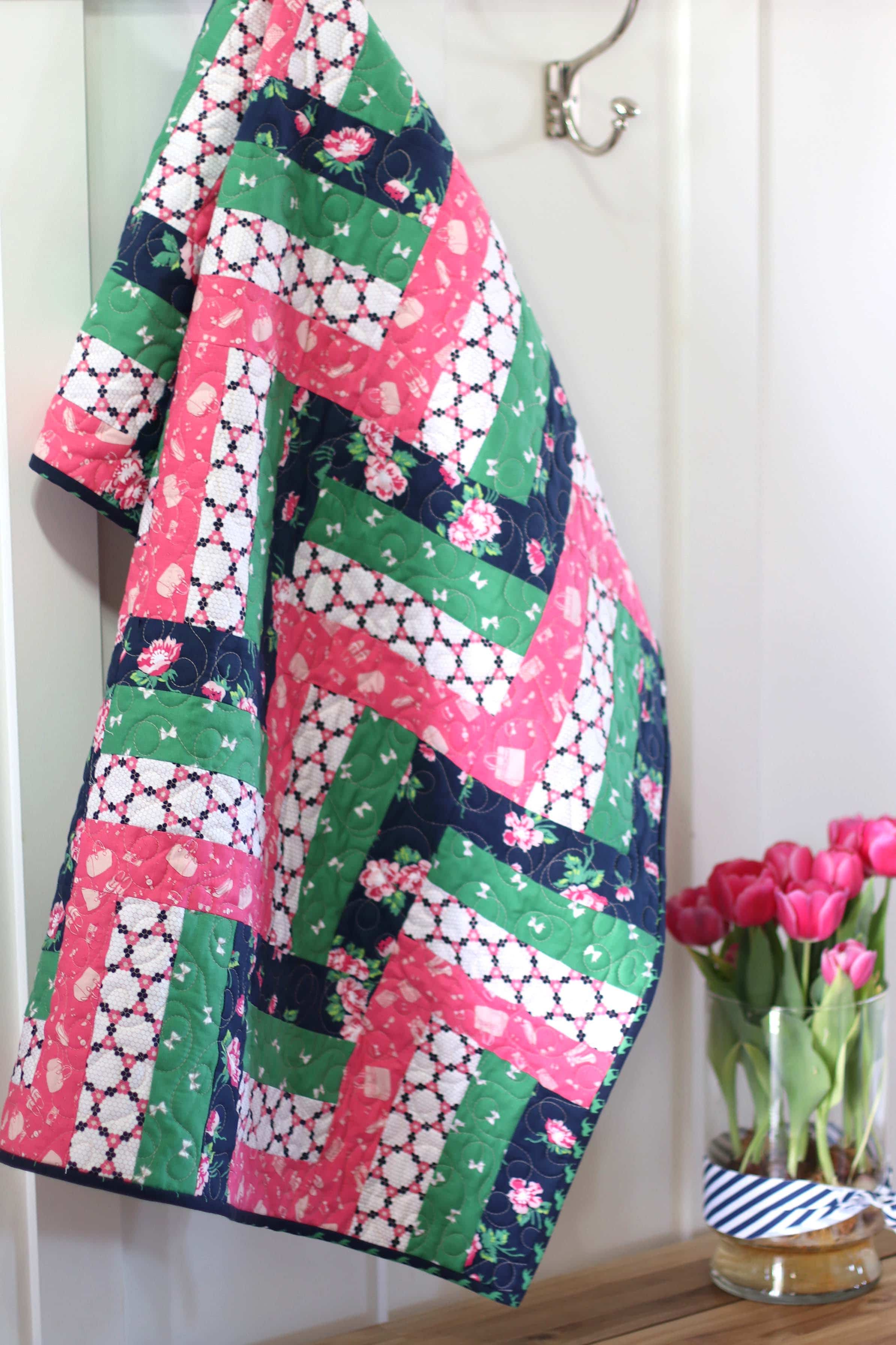 Visualize how the mesh can look in the layout, creating a window model that measures 1-1 / 2 "x 7-1 / 2". Slide it over the fabric at random to see how the strips will look when cut in different areas of the quilt.
Feel free to use more fabrics than illustrated – you may prefer a different fabric for each position on the block. You can start in the middle with a dark band and then fade in lighter shades on each side. I added some tips on page 2 to help you change your fabric options.
The quilt layout can vary as much as the fabric selections. Try your blocks after they are sewn to discover other layouts.
Final block size: 7-1 / 2 "x 7-1 / 2"
Final quilt size: approximately 45-1 / 2 "x 53", with the edge shown.
Fabrics and Other Materials
Green for blocks: 1 yard
Blue for blocks: 1 yard
Blue for wider border: 3/4 yard for crosswise grain borders; or 1-5/8 yards for lengthwise grain borders
Dark for narrow inner border: 3/8 yard for crosswise grain borders; or 1-3/8 yard for lengthwise grain strips (lots of leftovers)
Binding: about 225 running inches of doublefold binding (Binding Strip Instructions)
Backing: A panel that's about 55″ x 63″ — 2-5/8″ yards and sewn with horizontal panels on the back. You will have leftovers. (Quilt Backing Instructions)
Batting: same as backing
Rail Fence Blocks Cutting Instructions
Green
(15) 2″ wide strips from selvage to selvage (How to Rotary Cut Fabric Strips)
Blue
(15) 2″ wide strips from selvage to selvage
Sew the Strip Sets and Cut the Rail Fence Quilt Blocks
Gather three green strips and two blue strips. Sew strips together lengthwise, beginning with a green strip and alternating colors. End with a green.
Take care to sew an accurate quarter inch seam allowance. Some quilters like to begin sewing the third strip at the same end where the seam joining the first two strips ended, keeping up that motion as they add remaining strips because it helps keep the strip set from becoming warped.
Press to set the seams.
Press seam allowances one direction. Be careful to press thoroughly at allowances, but avoid stretching the strip set.
Square up one end of the strip set and then cut as many 8″ long segments from it as possible (likely 5).
Make two more identical strip sets. Cut a total of (15) 8″ long segments from the three sets. That's it, you're finished with the first block type.
Gather three blue strips and two green strips and assemble them in the same way, but begin and end the strip set with blue. Repeat two more times. Cut (15) 8″ long segments from the strip sets.
To Assemble Blocks Without Strip Piecing
If you prefer to cut and piece blocks together one strip at a time, cut (5) 2″ x 8″ strips per block (a total of 75 green and 75 blue for this color layout).
To Make Quilt Blocks with Five Different Fabrics
To use five different fabrics in each block, and to make 30 identical blocks, cut (6) 2″ wide strips of each (about 3/8 yard of each).
Sew fabrics into six strip sets, repeating fabric order in each or changing fabric positions. Cut (30) 8″ long segments.
Make a Scrap Quilt
Sew shorter strip sets and cut fewer 8″ segments from each to create a scrap quilt.
Finish Sewing the Rail Fence Baby Quilt
Assemble the Quilt

Arrange the Rail Fence quilt blocks into six rows, each with five blocks.
Rows 1, 3 and 5 are arranged as shown at the top of the illustration. Three blocks with three green strips are placed horizontally in each row. Two blocks with two green strips are placed between them, with strips running vertically.
Rows 2, 4 and 6 are arranged as shown at the bottom of the illustration. Blocks with two green strips are still placed vertically, but they change positions as shown.
Sew the components of each row together. Press new seam allowances towards the blocks with long strips along the edge being joined (rather than towards ends with lots of seam allowances).
Sew rows together, butting seams where blocks meet for a perfect match.
Press the quilt.
Use 1-1/2″ wide strips of the dark framing fabric to make inner borders. Apply side borders first using my straight border instructions (you might need to piece the borders if using crosswise grain strips). Beginners, don't be tempted to measure the length along each side of your quilt because it is likely skewed a bit. Borders are an opportunity to square up the quilt.
Use 3-1/2″ strips of blue to sew the outer borders in the same way. Press seam allowances towards the outer borders.
Mark for quilting if necessary. Sandwich with batting and backing and baste the layers together. Quilt the quilt.
Trim excess batting and backing and square up corners if necessary. Bind the quilt with doublefold binding. (Quilt Binding Instructions)